Spot Spitter Down Spray Stake
Spot Spitter Down Spray Stake
Details
Related products
Customer feedback
Spot Spitter Irrigation Stake - Down Spray, Spray Stakes - 4" Spray Stake that sprays down into the pot and is trouble free!
The first and still the world's best spray stake!
The SPOT-SPITTER product line is the most cost-effective, versatile solution for all your mini-spray nursery and greenhouse applications. Ease-of-use, performance, and low-cost have made our SPOT-SPITTER product line a favorite among greenhouses, nurseries, and orchards worldwide. Simplicity in design and easy installation mean lower labor and material costs. And since we offer a variety of wetting patterns and flow rates, you're sure to find a SPOT-SPITTER that fits your application.
Advantages of the DS over competitive products include:
Uniform root zone coverage
Uniform flow rates, less dependent on tubing
Reduced overspray and runoff
Color coded flow rates, consistent with AG
Made of a premium resin; tough, UV-inhibited acetal material

Originally, the Spot Spitter was made by Roberts Irrigation. These stakes are now being made by Primerus Products.
---
CLICK HERE FOR A DESIGN CALCULATOR BY PRIMERUS! THIS WILL HELP YOU CHOOSE YOUR FLOW AND DESIGN. (Should open in a new window)
Selecting the right lateral diameter, plant placement and SPITTER flow rate are critical to your irrigation system performance. Design too conservatively and you overspend on materials. Design to aggressively and uniformity is reduced, wasting water and affecting crop quality. Making the right tradeoffs results in a winning design – a high performance system at the right price.
The SPOT-SPITTER Design Calculator helps you make the right choices by giving you visibility into the effect of row length, lateral diameter, SPITTER flow rate and number of plants per row on flow rates and pressures. Access the Calculator here. It will open in a new window.
A system designed to 90% distribution uniformity (DU) will provide excellent delivery of water and nutrients to your plants while saving water and minimizing runoff. Challenge yourself to reach this target by selecting the right design parameters. Once you have completed the design and installed your system, keep DU high by regularly flushing laterals and keeping your system clean with good filtration.
The SPOT-SPITTER DS is available with the following popular flow rates and patterns: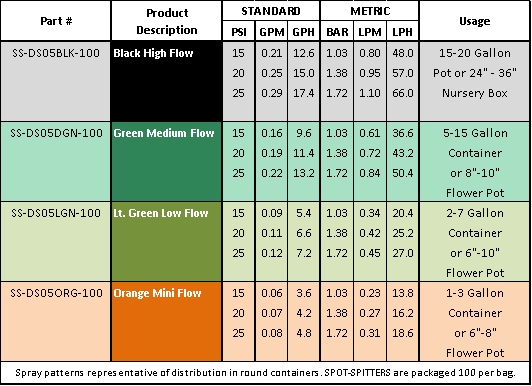 Customer Reviews
There have been no reviews for this product.